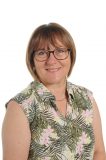 Job Title
High Level Teaching Assistant
Role & Responsibility
Year 4 class support,
PPA cover
Garden Coordinator
About Me
I am originally from Birmingham and moved to Bristol in 1986 and married a Bristolian. I live with my husband, and two cats called Jack and Smudge. Both my children attended Redfield Edge. My daugher lives in London where she is fulfilling her dreams of being an actress, having graduated from East 15 School of Acting in July 2014 and my son is an Aeronautical Engineer at Rolls Royce. Before joining Redfield Edge as a member of staff in September 2000 I was a credit controller for BT and then after having my children became a registered childminder. I ran a local toddler group, became involved with Redfield Edge Pre-School, was a 'friend' at Redfield Edge School and helped regularly in my children's classes. Since joining the school I have obtained a Level 3 in Early Years Care and Education and a Level 3 for Teaching Assistants. In May 2005 I gained my High Level Teaching Assistant award. This led to greater responsibility within school and I became ICT Subject Leader. When I get the time I enjoy gardening and crafts. As a family we have enjoyed activity holidays and have cycled from home to Hay on Wye (8 days 220 miles) and the following year we cycled to Jersey (10 days 250 miles). We did use the ferry though!! On both occasions we carried our tents and equipment with us and camped as we went. We have skied as a family in Bulgaria, France and Italy and now that Mr Sheppard and myself have a bit more time we enjoy going on motorbike holidays – I'm the pillion! Over the passed few summers we have ridden through France and Germany before riding across the top of the alps through Austria, Italy and Switzerland.
Education Philosophy
I believe that all children have the ability to reach their full potential with the right support and help. I aim to teach children in a fun and friendly way for them to achieve in every lesson. If a child has worries or concerns I am there to listen and offer support and guidance. My aim is that the children I support while they are at Redfield Edge learn to be caring and respectful and leave us armed with the tools they need to support them after primary school.