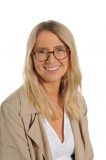 Year 1 Class Teacher / English Team Leader
Job Title
Year 1 Class Teacher
Roles and Responsibilities
English Team Leader
About Me
I grew up in Leeds but teaching brought me to Bristol in 2013. I began a Primary with Early Years Teaching Degree at UWE and have lived in Bristol ever since. Although I took a short break in 2017 and I travelled 11 countries in 7 months! I have also taught in South Africa and Sri Lanka where I made some incredible memories and had the challenge of teaching up to 60 pupils in a classroom.
Along my trips I have travelled the east coast of Australia in a campervan, sky dived in South Africa, qualified as a scuba diver along the coral reef in Thailand. But to my mum's relief (!) was still desperate to return home and begin my teaching journey as a class teacher.
My teaching journey began in supply teaching as I saved for my travelling trip. Upon returning I was lucky enough to be offered the chance to work at Redfield Edge. I have been here since February 2017 and I am currently enjoying teaching in Year 1.
In my personal time, I am studying for my MA in Education so tend to spend school holidays on my studies or with friends and family relaxing. We have three family dogs so I love going to visit my Mum, Nephew and rest of my family. You can often find me out walking with our dogs followed by a coffee and cake!
My Educational Philosophy
I believe staff and children flourish in an environment where each individual is valued.
"Every child is a different kind of flower. Altogether they make this world a beautiful garden". I hope to create memories for the children in Year 1 to remember for years to come!