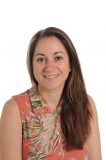 SENDCo / Deputy Designated Safeguarding Lead / Year 5 Class Teacher (job share)
Job Title
Year 5 Class Teacher
Roles and Responsibilities
SENDCo
PHSE/Mental Health Team – Lead
About me
I was born in Dorset and grew up in Wiltshire. University brought me to Bristol in 2007, where I studied Psychology followed by embarking on my teacher training. I am still fascinated by Psychology: how our brains work and how this affects our thoughts, feelings and actions, and I enjoy watching TV/ films and reading books about anything on this topic.
I absolutely love everything there is to see and do in and around Bristol and in the nice weather I like to be outside – riding my bike, going for walk or just sitting and reading a good book. That said, I caught the travel bug a few years ago when I flew to Indonesia by myself for a few weeks, followed by a longer trip with my fiancé to Australia, New Zealand and South East Asia the year after. Travelling in my spare time is therefore something that I am passionate about; I am always dreaming about where I could go and what I could see next!
Educational Philosophy
I believe that before learning can happen, children need to feel safe and secure: this is why building nurturing relationships with the children in my class is always a number one priority for me. Through my work as a SENDCo and class teacher, I recognise the importance of positive mental health and well-being for children to thrive.
Making and reflecting upon mistakes is encouraged within my classroom: "There's a bit of hidden magic in every mistake. The magic is called learning". I think that learning should be fun and active to engage all children and make lasting memories – I try to make my lessons 'hands on', making use of physical activity and outdoor learning where possible.
I promise to do my best to ensure that your children have a fun and memorable year!