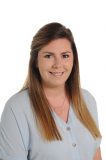 DHT / Deputy Designated Safeguarding Lead / Year 5 Class Teacher (job share)
Job Title
Deputy Head Teacher
Roles and Responsibilities
Deputy Designated Safeguarding Lead
Curriculum Lead
Assessment Lead
Music Subject Lead
About Me
I grew up in the Bristol area; I moved away to university to study Physical Education and Youth Sport at Sheffield Hallam University. In those years, I was training to become a secondary PE teacher. However, having gained more experience in the primary phase, I feel in love with it!
During the summer months at university, I moved to West Virginia USA and combined my love of children and horses as a Senior Camp Counsellor. During my time there, I gained lifelong friends which has allowed me to travel all over the world.
After moving back to the Bristol area, I studied at Bath Spa University where I was awarded my PGCE. I have developed my love of teaching at Redfield Edge where I have developed as a teacher and leader to now being Deputy Head Teacher.
Since being at Redfield Edge, I have met my husband and now have a very cheeky one-year-old girl called Zara. She is very much keeping us on our toes!

Education Philosophy
My educational philosophy stems very much from our school tag-line "striving to be the best version of ourselves". I believe if every child is challenged and striving to do their best, they will achieve.
Education reformer Dylan Wiliam says, "If we create a culture where every teacher believes they need to improve, not because they are not good enough but because they can be even better, there is no limit to what we can achieve."
I strive for children to embrace the mindset of continuous improvement. In our ever-changing world, the way we learn needs to continuously adapt to leverage new possibilities, not because we aren't good enough but because we have even more opportunities to be better. This is what children need to understand. By modelling this in myself and showing children that, even as an adult, I am always trying to improve, they begin to strive for better.
Another important strand of my education philosophy is ELLI (establishing life long learning). Academia is obviously important in education but I believe if I can facilitate children in learning the skills of learning, they will use these beyond my time with them and beyond my classroom. I find, when children focus on the skills behind learning such as making links in their learning, persevering, or thinking creatively, they learn more.