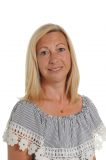 Job Title
Teaching Assistant
Role & Responsibility
EYFS and Year 4 class support
About Me
I have lived in Bristol all my life and now live in North Common. I am married with two children and both of them came to Redfield Edge Primary and Preschool.
I have worked at Redfield Edge since 2008 as a Teaching Assistant and had the pleasure of working in all year groups.
I have a rather hectic life outside of Redfield Edge as I have 3 dogs and 4 ponies that need a lot of looking after, which my daughter helps with as well. You may see me out walking with them at times if you live locally. To relax my family and I often take our caravan to Brean for the weekend which I look forward to.
Education Philosophy
Children are like little acorns and we are here to help them turn into great oaks.