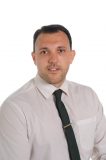 Job Title
Year 3 Class Teacher
Roles and Responsibilities
Physical Education Subject Lead (PE)
Religious Education Subject Lead (RE)
About Me
I have lived in Bristol since I was born, attending school not too far away. I enjoyed experience in a number of primary schools close to where I lived whilst studying and this led to my drive to pursue a career in teaching. I went on to study History at University of the West of England and then completed my Primary PGCE the following year, meaning I was ready to enter the classroom fully qualified.
I am a very active person, enjoying physical activity. I am a player and coach at a local football team, having also coached at a local U18's side. I embrace trying to learn new skills and enjoy visiting new places whenever possible.
Education Philosophy
'Be confident, believe, achieve' is the statement I go by in the classroom. I believe in making every child confident in themselves, promoting diversity among the cohort. Every child needs to be offered the belief that they can challenge themselves to succeed. In creating such a learning environment, every child therefore has the potential to achieve. It is my role as a teacher to deliver the best opportunities to children at the beginning of their life-long journey and create a drive to enjoy education.