Welcome to the Redfield Edge Wellbeing page
Staff Video – February 2021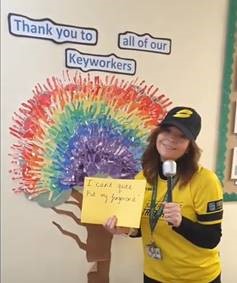 Click here to see the staff Video – 'It's OK if you're not feeling OK'
Parent Information
Please find resources to support you in discussing mental health with your children.
Anna Freud – tips for parents about mental health
Activities for wellbeing
Here are a range of activities that can support your child's mental health at home. Many of these were designed for our Children's Mental Health Week 2021 and are linked to the theme of 'Express Yourself'. There are some staff videos coming soon too!
Draw Your Feelings – Children's Mental Health Week 2021
Emotional Expression Through Dance
A Journey Through Musical Emotion
Feelings and Situations Matching Game
How I'm feeling Letter Template
My Inner and Outer Self Art Activity
Positive Affirmation Colouring
Positive Affirmation Decorations
Activities for relaxation
In this section, there are a number of resources to help you to relax. Some of the staff have prepared relaxation scripts that you could listen to before bed time, or if you want to take a mindfulness break during the day (coming soon). There is also information on different breathing techniques that you can use to help you relax or if you are feeling anxious or worried to help you to feel calm. You may also enjoy joining in with the other breathing, meditation and yoga videos, or simply listening to some calming music. Find a comfy spot, sit back and relax!
Other useful resources
In this section, there are miscellaneous resources to support your child's mental health.
Feelings Trigger and Strategy Chart
Year 5 and 6 – Negative Automatic Thoughts
Mental Health Stories and Books
Staff have read some books on the topic of mental health – we hope you enjoy them! (Videos coming soon).
Mental Health Tips
Mental Health Ambassadors, pupils and staff would like to share their top tips with you for positive mental health and well-being (Videos coming soon).